"Our call quality monitoring partnership with CSR Inc. is one of the most effective methods for improving the level of service we provide to our customers. We focus intently on our vision of being recognized by our customers and peers as the best in the business. Thanks to CSR Inc., our quality scores continue to improve year over year."
- Amy Gancasz, President, Gulph Creek Hotels
Quality Monitoring
Providing your customers with a positive experience just makes good business sense. CSR Inc.'s Quality Monitoring and Evaluation programs continually motivate your call center agents to exceed your customers' service expectations. Happy customers are loyal customers.
Collaborating with you, we design and implement your Quality Monitoring Program. But our work doesn't stop there. CSR Inc.'s goal is to create a long term partnership between your leadership team and our client services group. The objective of this partnership is to jointly support your goals by reviewing your progress, keeping you informed and providing ongoing recommendations to improve your call center performance.
Quality Monitoring & Evaluation program design components include:
Documented performance standards that support your company's business goals, service vision, training and sales expectations
Monitoring forms that are in alignment with your performance standards
Accurate and consistent evaluations of your calls, emails and chats
Coaching comments on each evaluation directing Supervisors and call center agents toward peak performance
Regular calibration with your management and supervisors
Consistent and unbiased evaluation of your front line performance
A wide range of on-demand reporting, with a 24/7 accessible platform
Call us today for a free Quality Monitoring trial. 610-989-9580
"Happy, engaged, and loyal customers lead to a strong
business – and more opportunities for growth. Keeping track
of your customers' engagement and their experience with your brand will set your company up for long-term success."
- Pam Neely

Elements of CSR Inc.'s Quality Monitoring/Measurement Programs
Performance Standards
CSR Inc. works with your team to define and develop specific, objective, measurable performance behaviors. These behaviors are defined and documented and become the performance standards for how your call center agents are expected to interact with your customers.
The performance standards also function as the backbone of your front line call center agent training, coaching and feedback, internal & external monitoring, and performance measurement. These clear performance standards will ensure consistency throughout your organization.
Call Retrieval – Recorded Customer Calls and Mystery Calls
To effectively measure the customer experience, CSR Inc. must listen to or experience transactions with your front line personnel directly. That's why we place mystery calls or retrieve previously recorded calls.
EVALUATIONS
As a third-party resource, CSR Inc. delivers unbiased assessments of your team's performance, creating a fair and objective quality monitoring program. Using our continuous call recording and evaluation process ensures consistency and prevents a lapse in monitoring in your call center organization.
Our highly-trained evaluators analyze each customer interaction in accordance with the monitoring form and corresponding performance standards. Evaluators' comments include recommendations that are critical for your supervisors when coaching your call center front line personnel. Once evaluated and quality controlled, each call, chat or email is linked to the evaluation and posted on our secure website in your password-protected folder. From there, supervisors can, at their convenience, review the evaluations with your representatives.
QUALITY CONTROL
Our quality control staff reviews a minimum of 10% of your evaluations, scoring them a second time to confirm that our evaluations are consistent. CSR Inc. relies on an internal system of checks and balances to ensure the quality of the service you receive.
CALIBRATION
On a regular basis, CSR Inc.'s management team calibrates with your supervisory team and provides progress reviews. Calibration sessions bring together your supervisors and CSR Inc. managers to listen to calls, reach consensus on proper scoring, and role-play a coaching session.
ON-DEMAND REPORTING
CSR Inc. provides intuitive, user-friendly web-based reporting for on-demand access to your results 24/7. Real-time web access lets you quickly gauge how your representatives are performing and allows you to react accordingly.
Our reporting platform enables your management team to review results at their convenience, selecting from many report filtering and sorting methods so they can drill down and retrieve specific, targeted and relevant information, choosing whichever best meets your needs.
Our suite of standard and custom reports includes the following:
Location Reports
Trending and Graph Reports
Data Mining/Cross Tab Reports/Raw Data Pulls
Configurable Dashboards
Configurable Headers for Agent Evaluation
Reporterator – Our team can build some client-specific reports without programming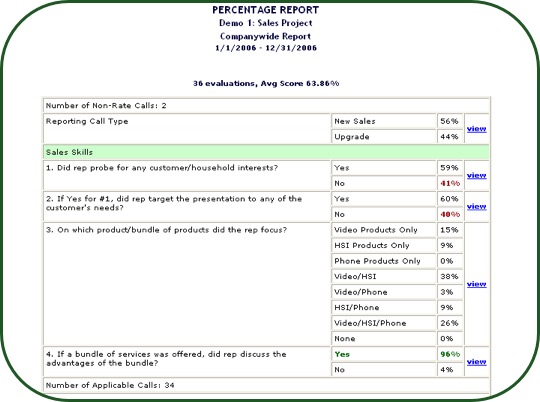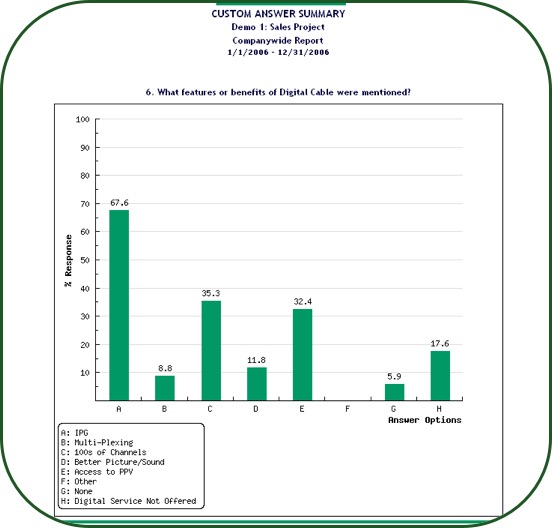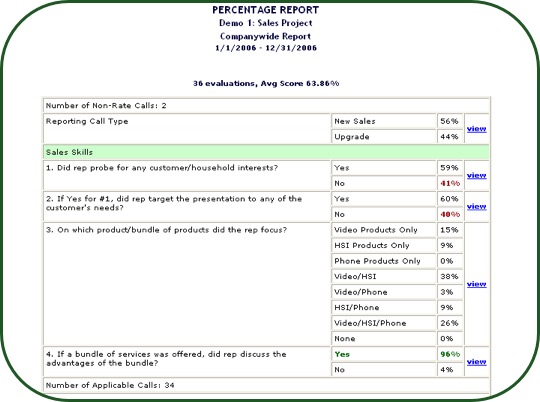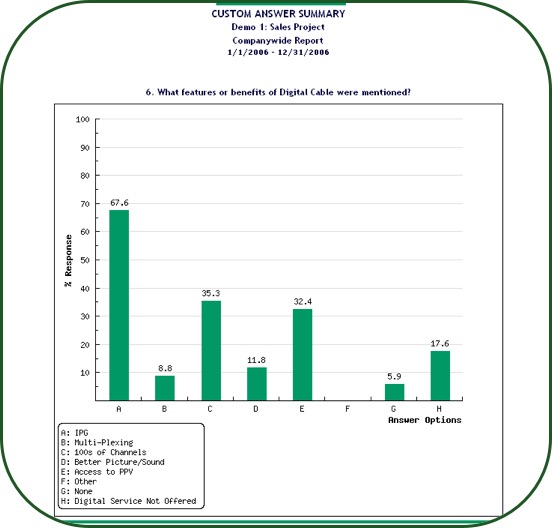 Often people think of customer service skills as an art
that are simply a part of someone's personality.
The CSR Inc. methodology translates the "art" of customer service to a science. The quality monitoring tools systematically dissect the flow of each call, defining the skills in realistic terms that are immediately transferrable to the performance requirements of CSRs and Supervisors. This process is
practical and measurable enabling you to hold your front line team accountable for their performance. We applaud the
methodology developed by CSR Inc. and find it to be
highly effective in developing employees.
- Bill Beitel, Director of Customer Service, Harron Communications